Leaders in Innovative Services in Supply Chain Logistics and Yard Management
Warehouse Mgmt

---

Services

---

Copyright © 2002-03
K&T Switching Service, Inc
All Rights Reserved

Warehouse Management
Standard Parts Metering System
What Is It?
A Custom Service & Program designed to
meter the flow of Parts into the plant.
Integration of Managed External Logistics and Managed Internal Logistics concepts.
Based on the PULL of material from the plant with defined Min/Max levels.
Routing of Deliveries by Route, Drop Zone, and Line Sequence.
A System that utilizes Barcode Technology.
Supplier Label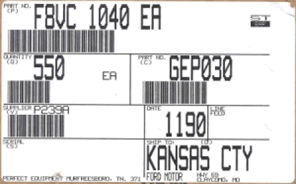 Delivery Route Label