Leaders in Innovative Services in Supply Chain Logistics and Yard Management
---

Services

---

Copyright © 2002-03
K&T Switching Service, Inc
All Rights Reserved

Switching Service
K&T Switching Services, Inc., founded by Joseph E. Radican, has been operating in the hands-on environment of industrial container movement for over two decades. Based on sound and established business practices specifically designed to meet the high customer standards, K&T also maintains a Total Quality Management (TQM) policy. TQM aligns the various functions of our switching service (CDL Certification, HazMat Training, DOT Regulations, Customer Specifications/Requirements, etc.) in a manner that encourages perpetual process improvements relating to day-to-day operations, industry equipment and technological advances. Once validated for application, integrity and cost effectiveness improvements are introduced to exceed the customer's expectation of service.
K&T is a price competitive alternative for regionally-based over the road moves. As a natural extension to the switching contract, K&T is able to perform certain freight moves as shuttles - significantly contrasting the cost of truck load or LTL carrier line haul rates.
Switching Equipment: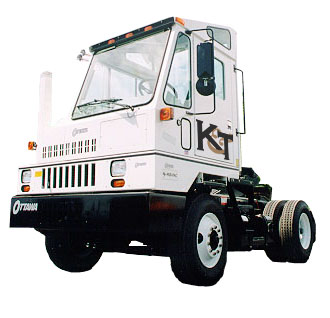 With over 25 years experience in the switching business, K&T Switching Service, Inc. has dedicated finances to expedite the purchase of equipment. Simply put, give them your switching contract and they'll get the necessary equipment!
K&T Switching Service, Inc. takes pride in providing State of the Art equipment with every contract to maintain our Zero Down Time service record. In conjunction with their extensive driver training programs, Total Quality Management (TQM) operating procedures, and regularly scheduled equipment maintenance, K&T services your business with a comprehensive professional image to support your corporation's well-deserved reputation.